Gazebo & Pergola installation services
We install flat-pack Gazebos, Pergolas, Sukkah and backyard covers.
We offer excellent workmanship, quick installation, and 30/days limited warranty on all our installations
Gazebo & Pergola installation services
Our services covers many places in Montreal and surrounding areas.
To learn more about services' availability in your area please check out the "Service-Area" page.
Please note:
We do not sell/trade Gazebos. We install new flat-packs only.
Gazebo Site Selection Tips:
Choose a flat, level location where water will not collect
Measure out the gazebo dimensions in your yard to visualize the space
Ensure you leave enough room in your yard for other family activities
Account for roof overhangs of both gazebo and your home if placing near outside wall
Check that you do not require a building permit or permission from your condominium board
Gazebos
An outdoor gazebo is an attractive and effective way to keep sun, rain, and insects off your family.
It can also serve as an outdoor entertainment center, hot tub enclosure, or just as a relaxing retreat.
Wood and vinyl gazebos offer the most permanent shelter solution and can be an impressive decorative feature in your yard or garden.
Choose an open-air model for taking in the views, or an enclosed one for increased privacy and protection.
For smaller yards (or rental properties), cloth canopies and hardtop gazebos are smaller and also less expensive.
Portable & Pop-Up Gazebos
For budget-friendly coverage, try a portable or pop-up gazebo.
Canopies are available in a variety of colours to complement your outdoor decor, and you can even add screened walls or curtains for more privacy (and fewer insect visitors).
Portable gazebos can be easily taken down and stored off-season, freeing up yard space for other activities.
Their convenience and ease of set up also make these gazebos handy for tradeshows, garage sales, weddings, and even a family day at the park.
With their open concept design, pergolas protect you from the sun while still letting you enjoy it.
Their distinct columns and lattice roofs are excellent for showcasing shade plants like clematis, trumpet vine and even grapes.
Like the style but not a gardener? Consider choosing a model with a retractable canopy to keep the sun and rain out.
Often used to frame walkways, cover decks or create seating areas, pergolas can be purchased as freestanding structures or built as an extension to your home.
Bugs not invited to your BBQ? A screenhouse will keep them out. A great option for campgrounds, cottages or your own backyard, screen-houses can be easily assembled with a limited amount of tools.
Screened walls allow your family to enjoy summer breezes while comfortably dining inside. Roof grommets will prevent rainwater from settling on your screen-house, and galvanized metal framework resists rust for durability.
Set one up over your patio furniture and enjoy; then when summer winds down, simply fold it away for convenient storage.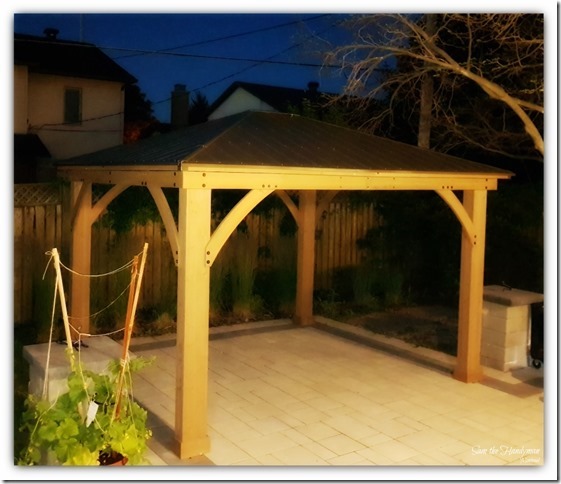 With a patio cover, you can extend your outdoor living space for all seasons.
Patio covers block harmful UV radiation while still allowing plenty of natural light through for your family to enjoy.
They also provide overhead protection from rain, hail and even snow.
A patio cover is a permanent, durable shading solution, adding value to both your home and your outdoor experiences.
Patio covers can also offer the added benefit of brightening up adjacent indoor rooms with reflected light.
Gazebo installation Cost:
Gazebo installation costs are quoted on a flat rate basis. To get a quote on your set please contact us.
If you need help to install your new Gazebo, we can help, please let us know.
Call us today to get a quote or send us a Short-Form to book for your next Gazebo installation.