Residentials Awnings Installation
With an awning you can enjoy the outdoor, more often.
Whether entertaining friends and family or just relaxing on your patio a correctly specified and installed awning will offer a totally different ambience to your outdoor patio or garden area making the intense midday sun or the odd rainfall totally at your control.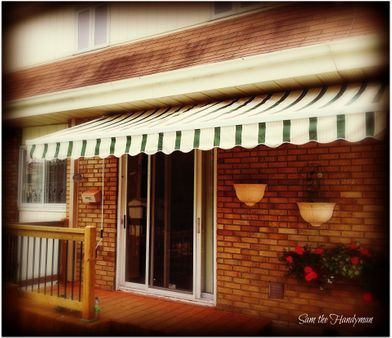 How many times has a sudden short shower spoiled a barbeque or party?
A good quality awning could protect you and your guests from the too frequent and inconvenient rainfall in any of our unpredictable seasons and you could easily extend the time spent outdoors even in the cooler weather.
Keeping out of the sun's harmful rays in the summer is more important now than ever before and patio awnings offer the best in shading your outdoor area.
The effects of harsh sunlight on fabrics and furnishings are also prevented with the shading provided by a suitable awning.
Residentials Awnings Installation
With so many types, colours and sizes available in the market you could easily find the right awning for you to choose from.
But before purchasing your awning:
Evaluate your shading requirements,
Inspect and evaluate fixing points on your building,
Calculate best size and pitch of awning required.
What about the wind loading?
Common sense is the best solution in windy conditions.
Patio domestic awnings are generally for shade and light rain but tested up to quite high wind speeds in controlled environments.
Need help for installation?
We install Manual Retractable awnings.
We offer professional installation services and all our installations come with 30/days limited warranty.
If you need help installing your owning please contact us.